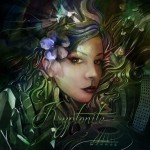 Aimee Blackschleger - Kryptonite
Aimee Blackschleger is an American singer currently living in Japan. She is known among Final Fantasy series fans for doing voice covers for two Final Fantasy XIII-2 tracks : " Unseen Intruder " and "Unseen Intruder -Aggressive Mix-", Bresha Ruins ' songs.
Aimee is well known within the gaming community for a number of games. For example, she sung the main theme to Phantasy Star Portable 2 and Living Universe.
Kryptonite
Michael Fogarty - Keys/Piano/Organ.
Michael Marrington - Drums
Simon Koperu - Bass
Tama Tsuboi - Nylon Classical Guitar (Tracks 1,2,5,6)
Alberto Garcia - Electric and Acoustic (Tracks 3,4,7,8)
Songil Choi - Violin

1.Kryptonite 6. Backseat Driver
2. Road to Ruin 7. Pretend
3. Temporary Song 8. Won't let me go (fet.Andy Kinlay)
4. Day Dreamer 9. MC
5. Journey